Towards Closer Unity: Communion of the Porvoo Churches 20 Years
Ed.  Beate Fagerli, Leslie Nathaniel and Tomi Karttunen (2016)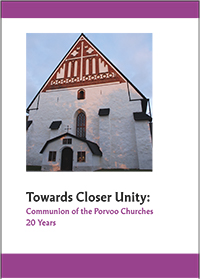 The publication was published in the fifth theological conference in Riga 19.-22.10.2016 to mark the 20 year anniversary of the Porvoo Common Statement of the Porvoo Communion of Churches. The publication includes articles, speeches and communiques from the theological conferences.
"The contributions in this book are intended to harvest some of the theologically and ecumenically insightful perspectives, which the Porvoo Common Statement and our joint Christian and theological traditions today provides for the churches and for the world in Northern Europe and beyond. We are grateful for the commitment and wisdom of the authors.
Our hope is that this antology will make the work done more visible in various contexts from grass roots level to academic discussions and research. We have deliberately wanted to be open also for the global and wider ecumenical perspective in the consultations at the same time as we have aimed to learn more about our Anglican and Lutheran heritage which also provide the energy of difference and the elasticity of diversity."